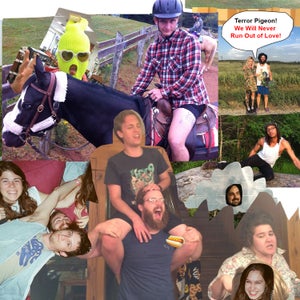 $

20.00
It's my 3rd Album! Get We Will Never Run Out of Love on beautiful colored vinyl!! I made 400 gorgeous marbled and 100 spooky splatter LPs with Vinyl Record Pressing from Florida!
We're doing every color ever so your record could be red and teal or yellow, purple and orange, or clear and black and pink! Every record is completely unique!
Here's the track listing!
SIDE A:
1) Chamber of Secrets for 1
2) Inconsiderateness Trial (featuring Pedro LDV)
3) Arms
4) No Ocean
5) Life's Pretty Tight and You're Alright (featuring Madeline Robinson)
6) OtherSong
SIDE B:
7) Come on Ride the Pain and Ride it, Wooawoo
8) Forgiveness is a Dish Best Served All the Time
9) More Songs with Keyboard Solos
10) Trying > Dying ? (featuring Yohuna)
11) Love is Stronger Than Everything and You Can't Run Out of It
12) Friends (featuring Kat Porter)
***There are options below to purchase this LP with my first LP "I Love You! I Love You! I Love You and I'm In Love with You! Have an Awesome Day! Have the Best Day of Your Life!" for a cool discounted price! My second LP, "Live It Up Before You Die It Up!" is sold out in America but Fierce Panda in the UK still has like 8 left that you can buy from them!